Taking Your Company on a Digital Transformation Journey? Don't Forget Your Data
You're gonna need some protection
Published January 2021
---
STAY UP TO DATE ON THIS TOPIC
Check the boxes & select Email or Atom/RSS Feed.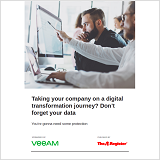 CIOs and business execs alike want to be able to deliver better, more targeted customer experiences. They expect these will be underwritten by analytics, and even AI. They'll want to take advantage of increased productivity, again through automation and analytics. This, they believe, will all contribute to driving and increasing competitive advantage. And for most organisations, achieving these benefits will involve using the cloud to a greater or less degree.
What is not always explicitly on the wish list is data management or data protection. Which might seem strange, as all those highly desirable outcomes will be unattainable without existing and future data being managed appropriately and protected on an ongoing basis.
But, for now, this doesn't seem to be holding organisations back. Research by cloud data management experts Veeam shows that just over half of global respondents believe digital transformation will help them transform their customer service, while 48 per cent believe it could transform business operations, and 47 per cent reckon it can deliver cost savings.