What modern data protection looks like and what it can do
…and why that backup you think isn't broken - is broken
Published February 2021
---
STAY UP TO DATE ON THIS TOPIC
Check the boxes & select Email or Atom/RSS Feed.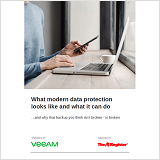 We live in a golden age of data. Applications, as well as mobile and edge devices, produce more of it than ever before, while storage and networking advances mean we can store more of it and move it faster than ever.
Analytics, machine learning, and AI, mean we can make better use of it. And this can all be done in the cloud, giving us virtually unlimited infrastructure to play with.
And yet research from Veeam shows that many companies lack reliable backup procedures and tools as they take their first steps on digital transformation journeys, and shift all or part of their operations to the cloud.