SYSTIMAX® structured cabling systems
High-performance infrastructure—built on the science of innovation
Published February 2021
---
STAY UP TO DATE ON THIS TOPIC
Check the boxes & select Email or Atom/RSS Feed.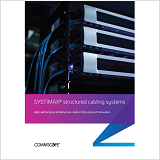 Enterprise networks, from the data center to thousands of connected devices, are under incredible stress.
New technologies, applications, devices and standards are forcing your network to evolve—and like any evolution, survival depends on agility and performance, with no room for error.
That's why your network is too important to trust it to anything less than the best and most trusted structured cabling solution in the world.
Top enterprises all over the world know and trust the SYSTIMAX name. It's the only complete, comprehensive single-source structured cabling solution available that covers every inch and every connection from the workstation, Wi-Fi access point, DAS remote, IP camera or other connected device, all the way to the data center.
SYSTIMAX is a comprehensive platform of advanced copper and fiber connectivity, with automated infrastructure management and high-efficiency interfaces that help you put more connections into increasingly crowded data center spaces. And because SYSTIMAX is a CommScope solution, it's backed by a reliable, responsive global network of manufacturing, logistics and expertise.