Cat 6A: the Fact File
Two decades old and still growing
Published April 2021
---
STAY UP TO DATE ON THIS TOPIC
Check the boxes & select Email or Atom/RSS Feed.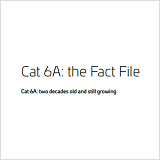 Although Cat 6A first appeared in 2004 in the form of CommScope's SYSTIMAX® GigaSPEED® X10D, it would not be formally published as a standard until 2009. By then, however, it was known across the industry as the cabling category of the future that would enable the next wave of high-bandwidth copper connectivity. This was why cabling manufacturers quickly tried to replicate it and standards bodies were compelled to publish an agreed standard.
Looking back, we see that it has enabled the development and deployment of many bandwidth-hungry applications that today's enterprises cannot do without. And it is not finished yet – it remains the recommended infrastructure for modern new-builds and promises to remain relevant for many years to come. Proof of its success can be seen in the sales volume that continues to grow, almost two decades after the initial draft of the standard.