Webcast Slide Deck | Remote and branch office and edge IT
Adapt to your new reality outside the data centre
Published June 2021
---
STAY UP TO DATE ON THIS TOPIC
Check the boxes & select Email or Atom/RSS Feed.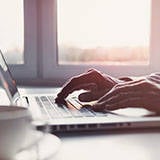 These slides support a webcast brought to you by The Register and sponsor Nutanix.
After the changes of the last 12 months, we need ways to handle increasingly dispersed data and compute. Remote, branch (ROBO) and edge locations are changing – becoming distribution hubs, handling work from anywhere, and collecting, analyzing and acting on more data generated away from the main office.
If you're rolling out and managing applications, databases, VDI, and other workloads and user needs outside the datacentre, you'll want to hear from Greg White at Nutanix, who will be telling the Reg's Tim Phillips about:
Trends in ROBO and edge
ROBO challenges (and solutions)
Practical advice and real-world examples
Watch the webcast on-demand here.