The CISO View 2021 Survey: Zero Trust And Privileged Access
Whitepaper
Published July 2021
---
STAY UP TO DATE ON THIS TOPIC
Check the boxes & select Email or Atom/RSS Feed.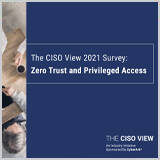 The transition to a Zero Trust approach to information security is picking up speed. The traditional corporate perimeter is simply disappearing. The massive growth of cloud, remote work, and third-party access to corporate resources is accelerating the need to adopt a security model that can be applied both inside and outside the network.
The goal of the CISO View industry initiative is to share peer-to-peer information on protecting privileged access, and in this report, we look at what that means in the context of a disappearing perimeter and a transition towards Zero Trust. As the perimeter disappears, what are the implications for protecting privileged access? What techniques are attackers using to try to gain privileged access? What controls can help manage the risks and move toward a Zero Trust model?