Responding Smarter, Faster and Better
Whitepaper
Published July 2021
---
STAY UP TO DATE ON THIS TOPIC
Check the boxes & select Email or Atom/RSS Feed.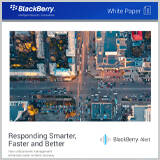 The demands on security leaders are the most intense they've been in recent history. Increasingly intricate systems, the accelerating shift to the cloud, the shift to remote work, and more sophisticated external threats have created the perfect storm.
Responding effectively to major incidents now requires more than human expertise, diligence, and manual processes. When systems are compromised or shut down and vital business data is unavailable, every second lost can have costly and farreaching effects.
Beyond rare global emergencies like the COVID-19 pandemic – which sparked a 35% rise in cyber attack volume, according to Microsoft – security leaders constantly confront severe incidents:1