Hosting Applications In The Cloud
Whitepaper
Published September 2021
---
STAY UP TO DATE ON THIS TOPIC
Check the boxes & select Email or Atom/RSS Feed.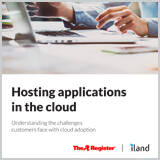 The cloud dominates tech conversations in its own right and is inextricably linked to the headline issues of today's tech world, from DevOps to IoT to AI, and of course remote working in the wake of the pandemic.
But what are the real challenges companies face when they decide to adopt the cloud? Are all clouds created equal? And what due diligence should companies undertake to negotiate these challenges?
These are the issues iLand wanted to explore in this Insight Snapshot, based on a survey of over 400 technology professionals. The answers were illuminating and, in some cases, highly emotive. Whether you've already embarked on your own cloud migration and want to compare your experiences with your peers, or are deciding whether to take that first, tentative step, iLand thinks you'll find the experience of your peers really useful.