Equip Your Workforce To Thrive In A Flexible Future
Whitepaper
Published September 2021
---
STAY UP TO DATE ON THIS TOPIC
Check the boxes & select Email or Atom/RSS Feed.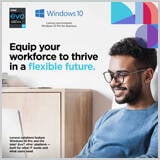 Today's employees are setting up shop outside the office, working on the go, and collaborating wherever they are. Companies must pursue the new. But the flexible workplace is a big challenge for IT. Not only do your employees need modern tools, you must also deliver, secure, manage, and support their devices remotely. Lenovo is here to help. Our technology solutions keep your people productive in a work-from anywhere world.
Collaboration is linked to everything from productivity to job satisfaction to competitive advantage. Lenovo solutions support the hybrid future of work, making it easy for onsite and remote workers to collaborate individually and in groups. They're easy to deploy, simple to use, and enhanced by Lenovo Smart Collaboration Professional Services.
Lenovo is a US$60 billion revenue Fortune Global 500 company serving customers in 180 markets around the world. Focused on a bold vision to deliver smarter technology for all, we are developing world-changing technologies that power (through devices and infrastructure) and empower (through solutions, services and software) millions of customers every day and together create a more inclusive, trustworthy and sustainable digital society for everyone, everywhere.