Sicherheitsorientiertes Verhalten – Kunst oder Wissenschaft?
Webinar
Published October 2021
---
STAY UP TO DATE ON THIS TOPIC
Check the boxes & select Email or Atom/RSS Feed.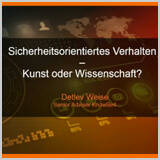 Social Engineering gehört zu den gefährlichste Angriffsvektoren für Cyberattacken. 88% aller Data Breaches lassen sich durch menschliches Fehlverhalten erklären. Egal, wie viel technische Sicherheitslösungen wir anschaffen, stehen wir immer noch vor einem grundlegenden Sicherheitsproblem: dem Menschen.
Cyberkriminelle zielen darauf ab, das Verhalten Ihrer Nutzer zu ihren Gunsten zu manipulieren. Sie müssen Ihre Nutzer entsprechend sensibilisieren für die Methoden von Social Engineering.
Wenn Sie die eigene Human Firewall wirklich stärken und damit die Anfälligkeit für Social Engineering verringern möchten, müssen Sie sicherstellen, dass nicht nur Wissen vermittelt, sondern Verhalten nachhaltig verändert wird. Das gelingt nur mit einem Security Awareness Programm, dass Ihre Nutzer wirklich begeistert.
Detlev Weise, Senior Adviser bei KnowBe4, zeigt Ihnen, wie Ihre IT-Security mit Verhaltensforschung verknüpft ist, wie Sie diese Erkenntnisse nutzen können, um eine nachhaltige Sicherheitskultur zu implementieren und warum Wissensvermittlung alleine nicht aureichtt, um Ihre Human Firewall nachhaltig zu stärken.
In diesem Webinar lernen Sie:
Wie man Nutzerverhalten effektiv und nachhaltig optimiert
Wie Sie eine sicherheitsorientierte Arbeitsatmosphäre schaffen
Warum es so wichtig ist, Ihre User wirklich für Ihr Security Awareness Programm zu begeistern