New AWS Case Study: Securing Diverse Environments With Radware Cloud Native Protector
Case Study Presented by AWS and AWS Security Partner Radware
Published October 2021
---
STAY UP TO DATE ON THIS TOPIC
Check the boxes & select Email or Atom/RSS Feed.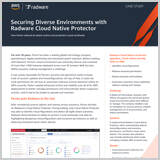 Ready to enhance visibility and manage permissions for you cloud-native environment? In this customer success story, we join Perion Network, a company which had its own cloud environment in addition to others it inherited from acquired businesses. The public ad tech company needed to enhance visibility and control of the multiple resources deployed on Amazon Web Services (AWS) so it could manage cloud permissions and detect suspicious activity. See how they were able to provide comprehensive protection for its applications hosted on AWS, enabling the company to focus on their core business priorities.
Read this to learn how to:
Get more granular visibility of your cloud asset inventory
Better understand key security threats to cloud environments
Detect and mitigate threats before they result in a breach
Automatically monitor account updates and configuration changes
Download Now.