Webcast Slide Deck | How to detect and analyse ransomware threats
Protect your data with a practical recovery plan
Published October 2021
---
STAY UP TO DATE ON THIS TOPIC
Check the boxes & select Email or Atom/RSS Feed.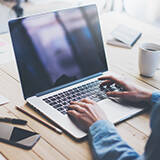 These slides support a webcast brought to you by The Register and sponsor Rubrik.
With ransomware attacks intensifying, both in scale and impact, IT leaders across the globe are scrambling to respond. It may seem difficult to prioritize building a recovery plan over deploying more firewalls, but the reality is, attackers are now able to infiltrate even the most secure defense layers. Which means recovering from ransomware is not a process you can afford to overlook or develop on the fly.
Rubrik's Chris Beckett, Sales Engineer at Rx Labs joins The Register's Tim Phillips for the second episode of the Ransomware Remediation Masterclass Series, in which he will step you through the anatomy of a ransomware attack and the aftermath.
What You'll Learn:
How to spot the signs of an attack and assess the blast radius
The actions to take at each step to recover quickly
The history on how we leverage Machine Learning to fortify response tools.