Build a strategy so you don't need to pay the ransom
Practical Cyber Resilience
---
STAY UP TO DATE ON THIS TOPIC
Check the boxes & select Email or Atom/RSS Feed.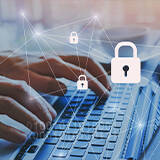 As ransomware attacks become more pervasive, vendors and users alike are adopting a band-aid approach to their detection and response, scrambling to keep up with a rapidly evolving threat. If you want to build a more practical cyber resilience strategy, where do you start, what technologies and strategies do you consider, and — most important — what can you do to get IT and security teams working together?
Join Rubrik's James Blake, Field CTO - Security EMEA at Rubrik for the first episode of the Rubrik Ransomware Remediation Masterclass Series. James will talk to The Register's Tim Phillips about the practical first steps to defend against ransomware and become a security forward enterprise.
What You'll Learn:
Think pragmatically about cyber resilience
The importance of automation, standardisation and orchestration
Build a strategy without buzzwords