Modernise applications with document databases
The advantages of Amazon DocumentDB
---
STAY UP TO DATE ON THIS TOPIC
Check the boxes & select Email or Atom/RSS Feed.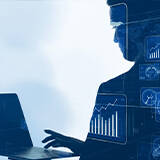 If you want to provide a digital-first experience for your customers, your application modernisation will need an architecture that can provide a flexible and scalable approach, and faster time to market. NoSQL databases, such as document databases, support flexible schema and scale out architecture. That means the potential for rapid application development, the sort of performance that meets customer expectations.
But you might be running into problems achieving that performance, controlling cost of ownership, or realising the scalability and availability you need. AWS argues that DocumentDB is the solution to these problems. It is a scalable, durable, and fully managed database service designed to scale mission-critical JSON workloads. Join Karthik Vijayraghavan from AWS and The Reg's Tim Phillips to discuss how you use it in your application development process.
What do modern applications require
How Amazon DocumentDB can help
How to migrate to Amazon DocumentDB