Container Monitoring And Observability
Whitepaper
Published November 2021
---
STAY UP TO DATE ON THIS TOPIC
Check the boxes & select Email or Atom/RSS Feed.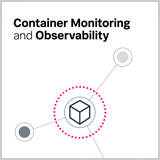 With more than 50 percent of the world now connected to the Internet via mobile phones, developing new applications has become a core requirement for any digital business. The advent of this core requirement has brought about a paradigm shift in the infrastructure space. As a part of their cloud journey, companies are adopting cloud-native technologies to increase the speed of developing these new applications. A survey conducted by the Cloud Native Computing Foundation shows that the biggest benefit of adopting cloud-native technologies is faster deployment time. This was followed by improved scalability, cloud portability and improved availability.
Containers have become one of the most popular cloud-native infrastructure components to adopt, allowing for faster development and testing of new applications. Alongside container technologies like Docker, DevOps teams are also leveraging container orchestration technologies such as Kubernetes to manage and operate containers at scale.