Scaling Kubernetes With Splunk and AWS
Webinar
Published November 2021
---
STAY UP TO DATE ON THIS TOPIC
Check the boxes & select Email or Atom/RSS Feed.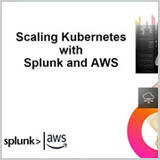 The market adoption of containers and Kubernetes has crossed the chasm of early adopters into more mainstream use cases. As you move beyond dev/test to roll out Kubernetes across your organization in production, you'll find that while Kubernetes provides the agility for development teams, it also introduces operational complexity and monitoring challenges.
Join industry experts from Splunk and Amazon Web Services (AWS) as they discuss how to efficiently scale Kubernetes applications with Amazon Elastic Kubernetes Service (EKS) and how to gain observability into your entire Kubernetes environment with Splunk -- no matter where you choose to deploy Kubernetes clusters; on the AWS Cloud or on-premises.
Watch the webinar, Scaling Kubernetes with Splunk and AWS, and learn about:
Challenges in operating distributed cloud-native environments such as Kubernetes
Key considerations in choosing Kubernetes platform - on Amazon Elastic Compute Cloud (EC2), serverless deployments using AWS Fargate or on-premises using Amazon EKS Distro (EKS-D)
Real-time monitoring and troubleshooting strategies for Kubernetes deployments
Demo covering monitoring and investigation of real-world performance issues with Splunk