4 Ways XDR Levels Up Security Programs
Ebook
Published November 2021
---
STAY UP TO DATE ON THIS TOPIC
Check the boxes & select Email or Atom/RSS Feed.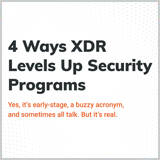 Extended Detection and Response, or XDR, is all the buzz lately. But is it all talk? Some say it's on a collision course with SIEM (Security Information & Event Management). In fact, maybe it is a SIEM. It's confusing out there, so we developed this guide to shed some light.
Here's what the Rapid7 eBook covers:
Identifying XDR as an 'approach' Discover how solutions like SIEM and EDR with curation make XDR possible to achieve.
Four key benefits of XDR Learn how XDR enables you to simplify SecOps, scale security transformation, and more.
Determine if XDR is the right approach for you Understand the critical pieces of the XDR puzzle, like required technologies and integrations.
InsightIDR: It was XDR before XDR was even a thing
Learn how Rapid7 began to lay the foundation for XDR 6 years ago with InsightIDR.