Drive Cloud Security Forward
Ebook
Published November 2021
---
STAY UP TO DATE ON THIS TOPIC
Check the boxes & select Email or Atom/RSS Feed.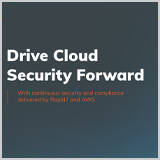 In migrating, many organizations seem to be facing a choice between slowing the pace of innovation or taking on massive unmanaged risk. But it doesn't have to be that way.
InsightCloudSec, a cloud-native security platform from Rapid7, integrates with Amazon Web Services (AWS) to help protect even the most complex cloud and container environments from vulnerabilities, policy violations, threats, and identity and access management (IAM) challenges. See how InsightCloudSec enables you to:
Shift left Shift security earlier in the development life cycle, catching misconfigurations before they go live.
Reduce noise Prioritize and act more effectively with a clear, unified picture of data, risk, and configurations.
Automate workflows Set your own conditions and automate the actions your team needs to identify, assess, and remediate threats in real time.