Inside The Mind Of The World's Most Famous Hacker
Webcast
Published November 2021
---
STAY UP TO DATE ON THIS TOPIC
Check the boxes & select Email or Atom/RSS Feed.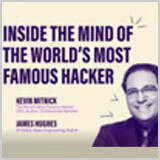 Kevin Mitnick is one of the most infamous hackers in recent history. Recognised for his high-profile conviction, the social engineering expert has since become an invaluable asset to governments, Fortune 500 companies and corporate clients, utilising his skills to find the weaknesses in their security systems.
Join Kevin Mitnick, FBI's Most Wanted Hacker, for this thrilling and demonstration-rich experience showcasing the latest hacking techniques. See first-hand why he maintains a 100% successful track record of being able to penetrate any security system using a combination of technical exploits and social engineering.
You'll also learn tips and tricks from Kevin on security awareness and how to fight back against social engineering, spear phishing and ransomware attacks.