Storage innovations that meet the challenges of the new normal
How Huawei products and technologies let you support the workloads that matter
---
STAY UP TO DATE ON THIS TOPIC
Check the boxes & select Email or Atom/RSS Feed.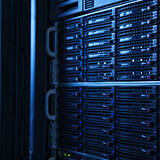 Data storage is an essential but under-appreciated part of the enterprise computing stack. So in this webinar we're going to correct that by spending some time with Michael Fan, Director of Enterprise BG Data Storage Solution Sales Dept., Huawei
Michael is going to do something new – take us on a live tour around the exhibition area at Huawei HQ in China, to show us some the OceanStor range of products.
We'll get a feel for those products, and also explore some storage mega-trends such as:
Software-defined data centres and hybrid cloud, and how both are changing storage;
New best practices in data protection and backup;
Protection against ransomware, and how storage plays a critical role in defeating this invidious form of malware;
The change in data centre architectures that use a data processing unit or SmartNIC to handle storage I/O tasks in a server, and leave the CPU to work on applications;
Storage for high performance computing;
Emerging workloads from the obvious – supporting remote working – to more hidden use cases, and how they create new demand for storage;
Storage and its impact on ambitions to achieve carbon neutrality and data centre sustainability.
Host will be Simon Sharwood, The Register's Asia-Pacific editor, will talk you through all of the above.
You'll also get the closest thing you can currently get to the experience of visiting Huawei in China – and perhaps a taste of what to expect once international travel again becomes routine.
Sponsored by Huawei.