Real-Time Visibility and Monitoring
Whitepaper
Published November 2021
---
STAY UP TO DATE ON THIS TOPIC
Check the boxes & select Email or Atom/RSS Feed.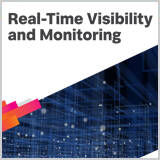 The cloud has become essential to modernizing IT and enabling digital initiatives for organizations large and small. As such, organizations are taking on the cloud journey, looking to accelerate innovation, increase efficiency and optimize IT spend.
Cloud migrations typically start by lifting and shifting existing workloads to the cloud. However, merely shifting applications and data from on- premises infrastructure to cloud platforms in a bulk cloud migration does not unlock the full potential of the cloud. Companies also need to refactor their applications, for example, by leveraging managed cloud services such as Google Cloud Datastore instead of maintaining their own NoSQL database. Furthermore, as companies mature in their cloud journey and re-architect their applications to microservices as well as embrace modern infrastructure such as containers, Kubernetes and serverless functions, they stand to gain more benefits.
While the cloud provides agility, efficient scalability and resilience, it also introduces operational complexity.