Enhancing Data Security with Splunk and Google Cloud
Whitepaper
Published November 2021
---
STAY UP TO DATE ON THIS TOPIC
Check the boxes & select Email or Atom/RSS Feed.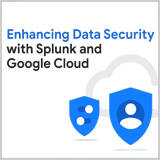 One look at the headlines is enough to realize that security threats are increasing in size, number, frequency, and sophistication. As companies move along the path toward digital transformation, they must keep security top of mind. Doing this, however, can be a costly, time-consuming venture.
Splunk works to enhance Google Cloud's extensive security measures by providing additional analysis and automated response so that IT security teams can work more efficiently.