The Impact Of XDR In The Modern SOC
Ebook
Published November 2021
---
STAY UP TO DATE ON THIS TOPIC
Check the boxes & select Email or Atom/RSS Feed.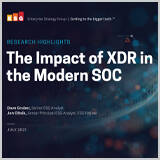 Teams are turning to extended detection and response (XDR) to drive efficiencies and faster time to detect and respond. Research from ESG explores why organizations are prioritizing XDR, how it fits into the existing security stack, and which businesses benefit most from this technology.
INCREASED SECURITY EFFICACY Many organizations see XDR as a path to better security. Learn about the benefits and accelerated results teams expect.
SIEM + XDR TOGETHER More than half of respondents say that SIEM is one of their most valuable tools. Learn how security teams are extending SIEM with XDR to optimize detection and response.
MANAGED XDR With many organizations reliant on MDR services for detection and response, managed service providers should incorporate XDR capabilities into their arsenals. Understand how XDR technology and MDR expertise combined yield more success.
PRIORITIZING XDR IN 2021 Most organizations surveyed are prioritizing XDR investment in the next 6-12 months. Learn why your peers see it as a critical piece of the security infrastructure.