End User Computing in 2022 and Beyond
Reinvent the workplace with Nutanix End User Computing
---
STAY UP TO DATE ON THIS TOPIC
Check the boxes & select Email or Atom/RSS Feed.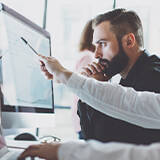 It may not be clear exactly what the "next normal" looks like for your organization, but there is opportunity to rebuild and gain a competitive advantage by making smart end user computing choices that empower your employees while increasing flexibility and decreasing costs.
The shift toward remote working highlighted what you can, and more often what you cannot do with end-user computing solutions such as virtual apps and remote access. If in the past you experienced long lead times, large upfront investments, limited scalability and – most important – unhappy users, what do you do now to implement EUC?
Join Gaby Beitler of Nutanix, talking to The Reg's Tim Phillips about how to implement EUC in the modern era, how you can avoid the mis-steps of the past and how a Citrix on Nutanix solution can help you. You will find out about:
The technology that will be the future of EUC
Building solutions that integrate seamlessly with on-prem and public cloud
Managing your EUC for hybrid and multicloud