Driving Velocity and Intelligence to your Data Recovery
Being smarter means a shorter RTO
---
STAY UP TO DATE ON THIS TOPIC
Check the boxes & select Email or Atom/RSS Feed.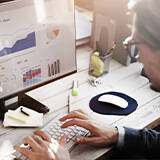 We've talked a lot about ransomware in 2021, but it's not the only scenario for data recovery. Whatever the use case is, from single file recoveries to corruption or malicious actions, you will minimise your RTO if you recover only the data you need, and you can find out what to recover and how to do it as quickly as possible.
Join Rubrik's Alliances Field CTO Pierre-François Guglielmi as he talks to The Reg's Tim Phillips about how you can make that trade-off in practice, streamlining and automating rapid data recovery to match every need.
Learning about different scenarios for data recovery
Discovering the blast radius and what data is affected
Optimising and orchestrating recovery