Accelerate your ransomware recovery
Change the game with data security and analytics
---
STAY UP TO DATE ON THIS TOPIC
Check the boxes & select Email or Atom/RSS Feed.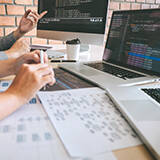 Planning for ransomware means planning how best to recover from an attack. But it is often so hard to determine which data has been compromised – and so difficult to restore it manually – that it's more efficient to pay the ransom.
If this is giving you sleepless nights, join Rubrik's Murthy Mathiprakasam as he tells the Reg's Tim Phillips how you can use zero-trust data security and improve your analytics to recover quickly and efficiently when ransomware strikes.
You will learn:
The negative consequences of manual processes and traditional tools
A new way to use analytics to accelerate ransomware recovery
How a zero-trust data security approach changes the economics and dynamics of cyber attacks