SANS 2021 Ransomware Detection And Incident Response Report
Whitepaper
Published December 2021
---
STAY UP TO DATE ON THIS TOPIC
Check the boxes & select Email or Atom/RSS Feed.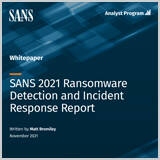 Ransomware is becoming more prevalent everyday, making it important to get prepared now.
Read this 2021 SANS report to explore a checklist for your security team and discover what your organization needs to do in order to prepare for a ransomware attack starting with these questions:
Has your organization considered how it will respond to a ransomware attack, and are you prepared for such an event?
If you have your own incident response team, do you have a separate response plan for ransomware?
What detection and response solutions are you currently leveraging?