Data protection from better data visibility
Extract more value from your backups
---
STAY UP TO DATE ON THIS TOPIC
Check the boxes & select Email or Atom/RSS Feed.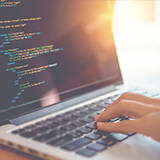 What type of data do you have? Where is it? Who has access to what, and what can they do with your data? These are not trivial questions. Data visibility is important for compliance, for closing security holes, and for better response in case of a ransomware attack.
But getting better visibility means deploying agents and swallowing scarce resources. Or does it? In our latest Regcast, Nicolas Groh, Field CTO EMEA of Rubrik tells Tim Phillips that, if you want agentless data visibility, and the advantages that flow from it, you can make use of your backups instead. And he's promising us a live demo too.
You will find out:
What is data classification?
Using data visibility to configure policy and evaluate risk
Polaris Sonar for data visibility