Four Ways That Google Workspace Works With And Elevates Your Existing Tools
Whitepaper
Published January 2022
---
STAY UP TO DATE ON THIS TOPIC
Check the boxes & select Email or Atom/RSS Feed.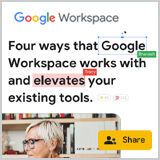 At the start of the pandemic, a massive 88% of organisations suddenly shifted to working from home. While some organisations have made the transition to remote and hybrid work without too much disruption, those saddled with legacy infrastructure were much slower to adapt. In fact, 49% were unable to maintain productivity on collaborative tasks following the shift.
This guide explores how Google Workspace solves challenges like these with a flexible and interoperable platform that works with the tools that you already use – from anywhere, on any device.