The Google Workspace Guide To Productivity And Wellbeing
Whitepaper
Published January 2022
---
STAY UP TO DATE ON THIS TOPIC
Check the boxes & select Email or Atom/RSS Feed.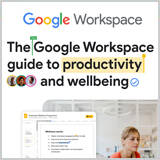 Productivity is grounded in understanding yourself as a whole person.
What makes you happy at work? What are your natural rhythms and peak times for creativity, focus or efficiency? When are you most engaged in meetings? What makes you feel unstoppable when responding to emails? And when do you need to take a break, do some uninterrupted thinking or deepen social connections with your colleagues?
When people don't understand these aspects of productivity, they struggle to make an impact – no matter how well they manage their calendars and inboxes. Now, as hybrid work becomes the norm for many organisations, it's important that we take a fresh look at personal productivity and plan to maximise our wellbeing and impact across all the places we work.
This guide can help you along the way!