The future of online meetings/events
Using multilingual interpretation tools to boost engagement and ROI
---
STAY UP TO DATE ON THIS TOPIC
Check the boxes & select Email or Atom/RSS Feed.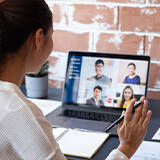 As 2020 blurred into 2021, online meetings and events became less novel and engaging. But for organisations who worked hard to deliver secure collaboration services at scale, revisiting those tools may feel like overinvestment.
Are you looking to improve your collaboration tools and deliver brilliant experiences that engage staff and stakeholders alike? If you answered yes, be sure to join The Register and KUDO to learn how to combat the lack of engagement that comes along with monolingual international virtual meetings.
With inclusivity and accessibility moving from being optional to being required, find out how you can accelerate engagement and achieve greater goals by simply adding a multilingual capability to your meetings.
You'll also learn how to make those improvements without asking your IT team to make major changes to your current collaboration suite.
During the event you'll hear from:
Aryeh Sternberg from KUDO
Penny Wong of Radmis Advisory
Robert Ian Bonnick from the Karya Lyfe Group
Breach the language barrier, improve efficiencies, increase inclusivity, engender engagement, expand your reach, and dramatically grow your bottom line - if you are ready to truly transform how you do business, this event is for you.