Attack path modelling
Turning the tables in favour of the defenders
---
STAY UP TO DATE ON THIS TOPIC
Check the boxes & select Email or Atom/RSS Feed.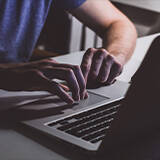 Detection, check, response, yes. But what about attack prevention? One of the most impactful ways to harden an organization is through attack path modelling: how would an attacker move through your organisation to cause the most disruption?
For two years, Darktrace has dedicated research at its Cambridge HQ towards thinking like an adversary to develop the world's first proactive security AI capabilities. Attack Path Modelling and various forms of AI are at the heart of Darktrace's new 'Prevent' capabilities, enabling it to identify and leverage contextualized, bespoke attack paths across-domains on a continuous basis. So join Mike Beck, Global CISO at Darktrace and Tim Phillips from the Reg to discover how you can leverage an adversarial mindset to strengthen your organization's resilience against cyber-attacks.
Why attack path modelling is at the heart of an adversarial mindset
Identifying your organisation's crown jewels and using AI to safeguard them
Simulating and emulating attacks to harden your defences against the novel attacks of tomorrow