There's More to Managed Services Than Meets the Eye in 2022
Staffing, Budget, Technical Pressures Pushing New Way to Consider IT
---
STAY UP TO DATE ON THIS TOPIC
Check the boxes & select Email or Atom/RSS Feed.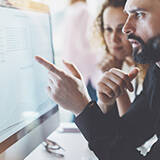 The last two years have been a whirlwind of change for global IT departments. Some squashed on-prem datacenters for a lift-and-shift to the cloud, others clung to traditional operations, and still others understood immediately than shifting times meant relying on the most steadfast option: reliable, secure managed services.
With staffing an evolving, pressing concern, especially given the specialization need across the IT organization, more companies than ever are focusing on risk mitigation across the board in terms of expertise, governance, security, compliance, tooling, and the host of workload and company-specific application drivers, not to mention cost concerns.
There is much to tackle and chances are, many of these issues will be familiar to you as an IT operations pro. From the chaos of staffing changes (when good people are harder than ever to find) to managing through a new way of thinking about the datacenter up and down the enterprise stack, we have some serious detail in store.
Join in for this in-depth conversation describing the changes ahead (and how your IT organization can be prepped) with Red River's Frank Lusko and our own Nicole Hemsoth. We'll tackle where IT operations have been, where they are in 2022, and the future and what organizations like your own have done to mitigate risk and tighten IT ops.