HPC Cost Modeling
Defining the modern HPC experience
Published March 2022
---
STAY UP TO DATE ON THIS TOPIC
Check the boxes & select Email or Atom/RSS Feed.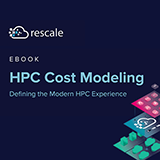 Assessing the cost of your high performance computing (HPC) practice is a necessary and important part of providing support to HPC stakeholders without sacrificing a disciplined approach to business services. However, assessing the cost of HPC presents several difficulties in measurement.
This ebook will focus on why the historical methodology for determining cost, price per core hour is at best, incapable of providing effective cost optimization for HPC workloads. At worst, could increase your overall cost of ownership and slow innovation, and productivity.