High Performance Computing Built for the Cloud
Five Winning Strategies to Accelerate Engineering Innovation
Published March 2022
---
STAY UP TO DATE ON THIS TOPIC
Check the boxes & select Email or Atom/RSS Feed.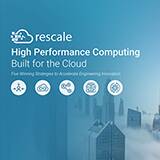 In the broader enterprise, digital transformation has changed the way people work and collaborate, made possible by cloud. However, this transformation is only starting to take place in engineering and R&D, and organizations adopting cloud HPC via a lift-and-shift of existing practices are not realizing the productivity gains they were looking for.
Digitally transforming engineering and R&D requires a fundamental reconceptualization of HPC practices - from focusing on optimization of HPC hardware, to optimization of R&D throughput.
In this new approach, software, hardware, and cloud considerations are all in service to making engineers successful, taking full advantage of capabilities that only cloud can make possible. In this paper, we describe five strategies that represent a fundamental departure from traditional HPC practices that have been proven to help organizations accelerate engineering innovation.