Accelerating The Journey To The Cloud With A Product Mindset
Whitepaper
Published March 2022
---
STAY UP TO DATE ON THIS TOPIC
Check the boxes & select Email or Atom/RSS Feed.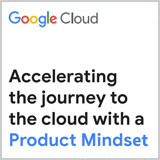 One of the most fundamental changes required to accelerate a move to the cloud is the adoption of a Product Mindshift - the shift from an emphasis on project to product.
Many technology leaders recognize money alone won't offer a solution. Cloud transformations require a major overhaul to business operations, and require CIOs to adopt a holistic approach to budgeting, hiring, team organizations, culture, security, product development, and many other operations. Businesses unable to quickly adapt may be left behind, and those who succeed will have created a new operating model that's lean, agile, and prepared to take full advantage of cloud computing benefits.