Strategically, securing and enabling business from anywhere
End user computing is more flexible, protected, and manageable than ever
---
STAY UP TO DATE ON THIS TOPIC
Check the boxes & select Email or Atom/RSS Feed.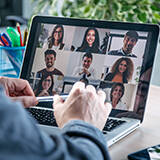 Virtual applications and desktop-as-a-service (DaaS) options are nothing new, but there are innovations that put those capabilities in reach without sacrificing flexibility, security, or functionality.
With millions of Windows applications running on-prem and remotely, cloud services and DaaS will continue to be a fundamental part of the modern workspace of 2022 and beyond.
Now is the time to dive into how your organization can strategically enable Work from Anywhere and learn how to support contractors and BPO use cases in addition to supporting project-driven workloads with ease.
Join host Nicole Hemsoth of Situation Publishing and Ruben Spruijt, a Senior Technologist at Nutanix responsible for driving End User Computing vision, technology evangelism and community leadership with Nutanix to talk about the advantages of the "run any software in your browser" approach with Nutanix Frame, which has a unique place in End User Computing and specifically desktop-as-a-service (DaaS) ecosystem.