Polymorphic Phishing Attacks: 5 Insights To Help Stop Them
Whitepaper
Published April 2022
---
STAY UP TO DATE ON THIS TOPIC
Check the boxes & select Email or Atom/RSS Feed.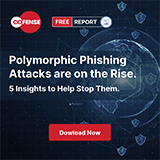 Threat actors are evolving quickly and modern day attacks are more complex and sophisticated.
Polymorphic malware changes rapidly to grab user credentials, raising the stakes for organizations around the globe. For many cybersecurity teams who lack bandwidth, finding the full scope of these attacks to quarantine is challenging and time consuming. Even worse, polymorphic attacks are not only effective, they're very easy to launch thanks to automated and inexpensive kits sold on the black market.
Are you prepared to respond to these types of attacks? Learn more about:
The porous nature of security perimeter controls
Why you need high-fidelity intelligence and human reporting plus AI to effectively minimize risk
How to strengthen your security practices and reduce the workload of your SOC teams