Best Practices: Phishing Prevention
On-Demand Webinar
Published April 2022
---
STAY UP TO DATE ON THIS TOPIC
Check the boxes & select Email or Atom/RSS Feed.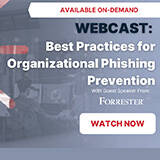 We've heard it on repeat: existing email security controls are not enough to stop sophisticated phishing attacks.
Half of all advanced email attacks like Business Email Compromise (BEC), credential theft, and phishing attacks evade existing email security solutions, and these make up over 80% of all reported security incidents. Enhancing email security is a top priority for cybersecurity executives at organizations of all sizes.
Listen in to the fireside chat led by Jess Burn, Sr. Analyst at Forrester, with Aaron Higbee, CTO & Co-Founder of Cofense and Kristy Westphal, VP Security Operations at HealthEquity, discuss best practices for phishing awareness, detection, and response, including technical controls and planning for failure.