Forward: Fight Back Against Cybercrime
Virtual Event
---
STAY UP TO DATE ON THIS TOPIC
Check the boxes & select Email or Atom/RSS Feed.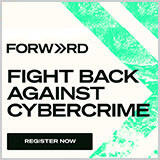 Cybersecurity is no longer about infrastructure. What's driving the future of cybersecurity is data security. And the strength of your data security posture depends on your team being on the same page - whether they're in security, IT operations, cloud and/or SaaS.
It's for this reason that we've tailored this year's FORWARD virtual user conference to focus on three themes: Data Security, Data Protection, and Cloud & SaaS, to ensure you walk away with a holistic data security strategy.
You can find more information here.