How Digital Change Is Leading Britain's Professional Services Firms Out Of The Covid Crisis
The £232 billion opportunity
Published May 2022
---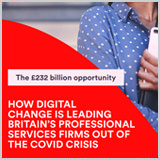 Some sectors of the economy have historically been resistant to digital change. The legal profession was certainly one of them. It's one of the jewels in the crown of the lucrative professional services sector, yet it's remained behind the times in terms of tech adoption and strategy.
In the professional services sector, the digital transformation uplift is estimated to be approximately £16 billion in 2040, a gain over the baseline of around 4.8%, bringing the size of the sector to £349 billion in 2040.
By embracing digital, cloud-based technology,the innovators are thriving.
Read more in this report.