How Professional Services Firms Can Thrive In A Post-pandemic World
Whitepaper
Published May 2022
---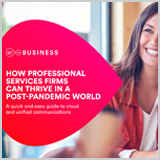 In the wake of multiple lockdowns and a dramatic reduction in face-to-face contact, professional services firms have faced a number of particularly difficult challenges. Companies in this sector have always relied on being in the room with people. And many simply weren't ready for mass remote working. And that's only one part of the problem.
72% struggle with limited organisation support for effective resource management
50% still use spreadsheets as their primary tool for resource management
60% of professional services people said they spend too much time logging activities such as emails and phone calls
In that sense the pandemic has actually provided an opportunity for professional services firms to reimagine the things that haven't been working for them.
Download this quick and easy guide to cloud and unified communications.