The CIO's Guide to SASE Planning
Driving the future of work through enterprise-wide SASE
Published May 2022
---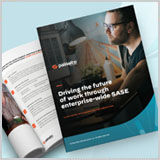 The convergence of networking and network security as a single cloud service, secure access service edge (SASE), represents an opportunity to free organizations from the limitations of legacy hardware-based, data center-centric architectures. By removing the barriers to digital transformation, SASE increases the rate at which organizations can empower their hybrid workforces. SASE allows you to move on cloud initiatives and transform branch offices, preparing you to respond to rapid change.
Read the e-book, "Driving the future of work through enterprise-wide SASE," and gain knowledge and insights to help you successfully navigate your organization through the transition to SASE. Insights include:
Diving into the architecture of SASE and the benefits it provides.
Exploring how organizations are achieving their most important IT goals through three SASE use cases.
Preparing to adopt SASE by exploring the implications and potential pitfalls
Showing how Palo Alto Networks delivers the industry's most complete SASE solution with Prisma® SASE.
Whether you're a veteran CIO or an aspiring IT leader, if you're interested in gaining a strategic perspective of how your organization can benefit from SASE and what it takes to get there, this guide is for you.