Zero Trust with Zero Exceptions
ZTNA 2.0: The Next Era of Secure Access
---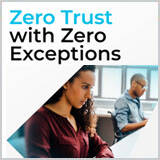 The last 24 months have shown that the workplace is no longer a place; it's an activity. With apps used everywhere, 80% of organizations have adopted a hybrid cloud strategy.1 In fact, they've used an average of 110 SaaS apps within their environments.2
Simultaneously, users are now everywhere. 76% of employees want to work hybrid, even after the pandemic.3 All of this brings new cybersecurity challenges, which means organizations need ZTNA 2.0.
Join us for the unveiling of ZTNA 2.0 with Palo Alto Networks Prisma® Access, the next era of secure access. Learn directly from industry experts as they share evolving market challenges, strategic best practices and the latest innovations from Prisma Access. You also don't want to miss our new security capabilities in action.
Discover how you can secure your hybrid workforce with ZTNA 2.0.