The Importance of Unifying Database Backup and Recovery
Sponsored by Rubrik
---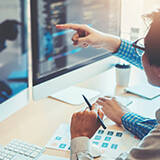 Databases often come with a library of native backup and recovery tools designed to help dedicated database administrators (DBAs) replicate and retrieve mission critical data, applications and workloads as quickly as possible. But as rich as these ecosystems can be, they're not often the most user friendly and can leave backup and infrastructure teams none the wiser on how best to utilise them to minimize business disruption and downtime.
Many end users want more visibility and control over those database backup and recovery processes themselves rather than have to wait for DBAs to facilitate them. They also need to know (and demonstrate) that information is being replicated and stored in accordance with both data protection regulation and organizational service level agreements (SLAs).
Join this Register Webinar to hear Rubrik Field CTO Nicolas Groh discuss the challenges companies face in maintaining that balance, and how a modern backup and recovery platform should orchestrate the protection of databases hosted both on-premise and in the cloud.
Nicolas will conduct a deep dive into Rubrik's SAP HANA and NoSQL Protection product to show how it:
Enables generalists to do more while ensuring specialists have the flexibility they need to exercise their expertise.
Improves visibility with centralized monitoring and reporting to ensure compliance withbusiness SLAs.
Keeps backups protected from ransomware and accelerates recovery with Zero Trust Data Management.
Speakers:
Martin Courtney, Commercial editor at The Register
Nicolas Groh, Field CTO EMEA at Rubrik, PreSales and Technology has been an evangelist in the Data Protection space for the past 20 years and is now evolving to Data Security but always with databases at heart.