Can SONiC Be The Linux Of Networking?
Sponsored by Dell
---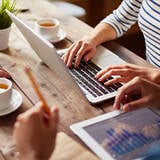 This webinar will discuss the increasing momentum behind Software for Open Networking in the Cloud (SONiC) with specific reference to Dell's commercially supported distribution of the open source network operating system.
It will start by outlining SONiC's Linux origins and subsequent development under the guidance of first Microsoft, then the Linux Foundation, and describe the benefits it has brought to the datacenter networks run by hyperscalers and cloud service providers. It will go on to discuss how the gradual shift of cloud workloads, applications and data to the network edge could push further SONiC adoption in other verticals currently expanding their use of AI, big data and the IoT.
Speakers Timothy Prickett Morgan of Situation Publishing, Saurabh Kapoor of Dell and Brad Casemore of IDC will analyse the features - PoE, 802.1x, VXLAN support etc - which the latest version 4.0 of Dell's SONiC distribution is targeting at the retail industry and consider the importance of providing a resilient but flexible open source platform that allows customers to build their own software stacks and tooling.