A backup insurance policy to reduce unplanned downtime
If your backup isn't protected, how do you know you can recover?
---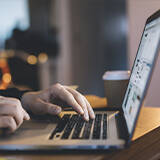 The biggest threat to business continuity is unplanned downtime and data loss from cyber attacks, disaster events, and outages.
Resiliency depends on being able to protect and ensure the recoverability of your data. With Rubrik, you can radically simplify DR with Orchestrated Application Recovery as part of the SaaS-based Rubrik Security Cloud platform for backup and recovery.
Join The Register and Rubrik experts Carl Norwich and Joe Harlan to learn how you can help ensure fast, local recovery for ransomware attacks as well as rapid, orchestrated recovery with site failover to on-premises VMware environments, VMware Cloud on Amazon Web Services (AWS) and VMware Cloud on Azure VMware Solution (AVS).
Speakers:
Martin Courtney - Commercial editor for The Register
Carl Norwich- GTM Lead, Orchestrated Application Recovery, Rubrik
Joe Harlan- Technical GTM Lead, Orchestrated Application Recovery, Rubrik