Storage Hardware Innovation - driving the way we store data
Partnered with Broadcom, Kioxia and Solidigm
---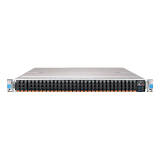 As enterprises at all levels incorporate software-defined methods into their storage architectures, the traditional sealed box storage appliance is also undergoing an evolution. The continuing development of traditional storage usage models in response to advances in software methods could in fact be the beginning of a virtuous cycle that spurs advances in hardware, which in turn support and drive further innovation in storage software.
In this session, our panel of industry experts will analyze the latest developments in storage technology and consider how industry partnerships are helping to drive adoption.
It will cover:
How manufacturers are optimizing storage server design using SSDs alongside software defined storage.
The most recent advances in SSD/flash media capacity, interfaces and interconnects (e.g. QLC, 24G SAS) and what is coming further down the line.
Innovation in the development of HDDs and their place alongside SSDs within future data center storage architectures from a cost/performance/endurance perspective.
The role of PCI-E/NVMe/CXL as a transport in next-generation disk and storage system architectures.
Which storage device form factors (add-in cards, U.2 SSDs, M.2 sticks, E1 'rulers', etc.) have the best chance of achieving mainstream adoption and why.
The march of the NVMe storage protocol and industry efforts to certify component and system interoperability/support through supplier partnerships.
How partnering with Supermicro is helping suppliers reach new customers for their storage products and services.
Speakers:
Timothy Prickett Morgan, The Register, Moderator

Anders Graham, Director of Business Development, Kioxia

Tahmid Rahman, Product Executive Director, Solidigm

Rick Kutcipal, Product Planner, Broadcom

Paul Mcleod, Product Director, Supermicro