Redis Enterprise Cluster for Real-time Applications
Partnered with Intel®
---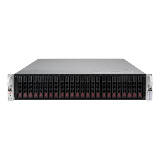 As the market demands more bandwidth and real-time online services, the challenge to support new technology such as 5G, IoT, and real-time applications has dramatically changed data center infrastructure requirements. Cloud IaaS (Infrastructure-as-a-Service) Providers are constantly optimizing caching services to reduce the "Last Mile" latency at strategically located Edge Data Centers.
Real-time applications are prevalent in a wide-variety of markets, especially in advertising, media & entertainment, online gaming, e-commerce, mobile apps, healthcare, higher education, and government. Supermicro has partnered up with Intel, Red Hat, and Redis to create a high-availability cache cluster in a small footprint to simplify the deployment and scalability of Intel® Optane™ PMem performance with hybrid cloud capabilities.
With GrandTwin®, BigTwin® & Ultra's no-compromise system design, in-memory performance, low-latency NVMe storage, and redundant Titanium level power supplies, the Supermicro Redis Enterprise Cluster (REC) Series can reliably deploy and support real-time applications with the power of Red Hat® OpenShift and Redis Enterprise.
Speakers
Timothy Prickett Morgan, Moderator, The Register
Raghu Moorthy, Solution Architect, Intel®
Michael Ocampo, Sr. Product Manager, Supermicro