APAC Virtual Cyber Insights | Staying Ahead With Cyber Resilience
Virtual Conference
---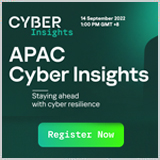 Cyber resilience is the capacity to prepare for, respond to and ability to resume operations following a disruptive incident. While a cybersecurity strategy can help prevent a data breach or reduce the risk of malicious activity, a cyber-resilience strategy explicitly helps mitigate the impact of these attacks – which is why every organization must have a plan for both.
APAC Virtual Cyber Insights "Staying ahead with cyber resilience" brings the most updated APAC cyber trends and threat landscape while presenting risk-reducing solutions. The forward looking session will also demonstrate the value of thinking resiliently towards a cyber-defence-in-depth approach.
Join leading experts from Kaspersky and industry analyst from IDC as the panel discusses how to integrate your cybersecurity and cyber resilience strategies and converse key points around prevention, detection, responses, and more. Be here on 14 Sep, 01:00pm sharp as the mentalist entertains with live performances that include breath taking psychic demonstrations and a live band recital that keeps you seated till the end.